Do you want to visit London? Listen to a conversation of two people who are deciding where to go in London. Listen carefully and do the listening comprehension test. With this activity, you will learn and revise useful sentences and expressions for everyday life. Another self-evaluation test is included to check your knowledge. Are you ready to talk to other people? Let's try.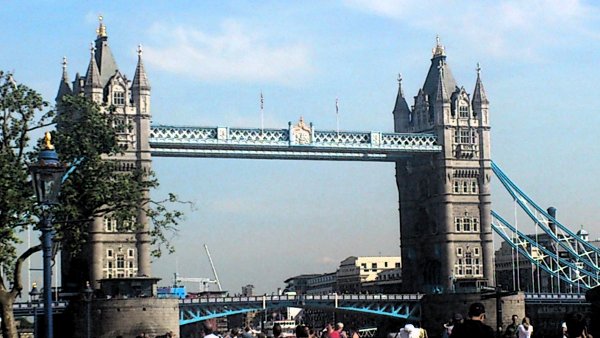 The Tower Bridge in London
1. What shall we do?
Listen to this conversation and do the test. You have to match the five expressions above with the ones bellow so that they can form a meaningful sentence. But first, read the instructions by pressing the
Instrucciones
button.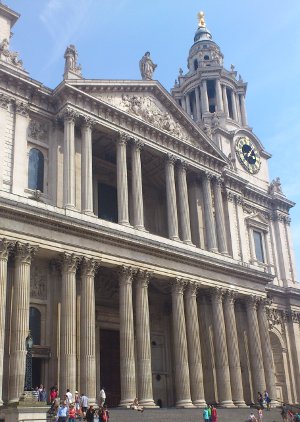 Big Ben and Saint Paul's Cathedral
2. Useful sentences for social situations
In this list, there are some sentences inside each section. The words in CAPITAL LETTERS are the important expressions which cannot be changed and to which you can add different items to complete the sentence, like this:
I'D LIKE a coke - I'D lIKE an ice-cream
1. ASKING FOR SOMETHING
Two tickets to London, please.
I'D LIKE a cup of cofee.
HAVE YOU GOT any change?
I'M LOOKING FOR a dress.
CAN I HAVE a sandwich?
COULD I borrow your bike?
COULD YOU lend me your bike?
YES
-Yes, of course.
-Sure. Here you are.
-Certainly, sir/madam.
NO
-I'm afraid I haven't got any/one.
-I'm sorry, but it's broken.
2. OFFERING SOMETHING
DO YOU WANT some biscuits?
WOULD YOU LIKE a coke?
HOW ABOUT an orange juice?
DO YOU FEEL LIKE a coke?
DO YOU FANCY a lemonade?
YES
-Yes, please.
-Yes, I'd love it.
NO
-No, thank you.
-I don't feel like it.
3. OFFERING HELP
I'LL carry the cases for you.
CAN I HELP you with the cooking?
SHALL I mend it for you?
DO YOU WANT ME to help you?
YES
-Please.
-Yes, if you like.
-That's very kind/nice of you.
NO
-That's all right.
-Never mind.
-I can manage. Thank you anyway.
4. ASKING FOR A FAVOUR
CAN/COULD YOU do me a favor?
WILL/WOULD YOU pass the salt?
WOULD YOU MIND helping me?
YES
-Of course.
-Sure. Here you are.
-No, I don't (mind).
NO
-I'm afraid I can't.
-Im sorry, but...
5. ASKING FOR PERMISSION
CAN/COULD/MAY I go out?
DO YOU MIND IF I make a call?
IS IT O.K. IF I open the window?
YES
-Please do.
-No, I don't (mind).
-Yes, of course.
NO
-Well, actually...
6. INVITING OR SUGGESTING
DO YOU WANT TO come home?
WOULD YOU LIKE TO go out?
WHY DON'T WE play tennis?
DO YOU FEEL LIKE walking?
HOW ABOUT going for a walk?
LET'S go to the party.
SHALL WE go on holiday?
YES
-Yes, I would.
-That's a good idea.
-Great!
-I'd love to.
-All right/O.K.
-That would be lovely.
-Why not?
NO
-No, I wouldn't.
-I'd like to, but...
-I'm sorry, but...
-I'm afraid...
-Well, actually...
-... Thank you anyway.
7. GIVING ADVICE
YOU SHOULD stay at home.
WHY DON'T YOU phone the police?
YOU'D BETTER go to bed.
IF I WERE YOU, I'D buy it.
YES
-All right/O.K.
-Yes, you are right.
NO
-Thank you, but...
8. ASKING FOR SUGGESTIONS
SHALL I buy this jacket?
What SHALL WE do?
9. ASKING FOR DIRECTIONS
WHERE IS the railway station, please?
HOW CAN I get/GO TO the zoo?
IS THERE a post office near here?
YES
-The second turn on the left.
-Go straight on and it's on your right
NO
-I'm afraid I'm a stranger here.
-Sorry, I don't know.
-No, there isn't.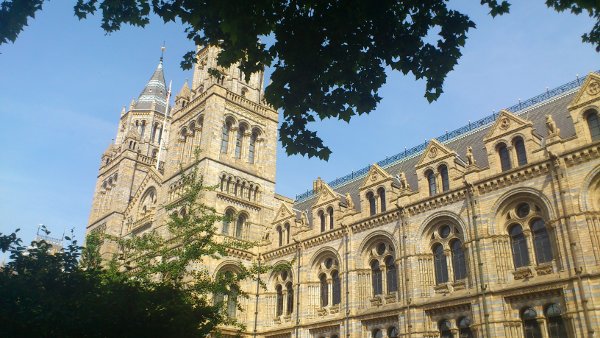 Natural History Museum. (Thanks to
Maise Herrero
for the photographs of London.)
3. Test for revising
Here is another test with twenty questions related to social situations where you may often be involved. It's not difficult and you will see that you know much more than you expected.
4. Write and record a conversation
Finally, you may write a comment including a conversation and using the expressions learnt and revised above. You might even record it with a classmate and the help of your teacher. You can also write the conversation in this editor and then send it to your teacher or print it.
If you are an advanced student,
this BBC Learning English web page
might interest you.
5. A virtual visit to London
If you want to know London and londoners, you may want to visit theses sites: